Middleton is an imaginary town in the English East Midlands and is modelled in OO scale.
The town is served by two main stations (Exchange and Central) built by competing companies.
A third station (Belgrave Road) is a large terminus. From Middleton, lines run to Eastwich
(a seaport and holiday resort) by two alternative routes. There are also branch lines to Banbury and Langton.

The layout was started in 1979 in England, shipped to New Zealand in 1983 and moved to its
present location in 1996. It is housed in a purpose-built shed measuring 19m by 10m
The layout contains over 300m of track and over 227 points. There are several kilometres
of wiring underneath! Layout features include a marshalling yard, several engine sheds, harbour
(with train ferry) and a quarry. Still to be built are a power station and ironstone mine.

The layout is displayed with trains representing a specific decade between the 1950's and the 1990's
Each decade is shown for a few months and then the layout stock, road vehicles and some scenic features
are changed to the next decade. After the 90's has been shown the sequence starts again from the 50's
So on repeat visits there will almost certainly be different trains to see on the layout. See our "News" section
for the latest information on the decade being shown.

More photos of Middleton

Operating Times, etc.
The following link gives these details

Opening and Operating Hours

Group Operating Sessions
Once a month, usually on a Saturday around the middle of each month, a group of enthusiasts meets to run an authentic
operating timetable session on the layout using speeded-up clocks. Members of the public are welcome
to attend these sessions during normal operating hours, but are advised to check beforehand that the
session is taking place as planned, if it is of special interest.

Other Attractions
In addition to the main layout there is an interactive childrens' layout which features
well known characters from childrens' stories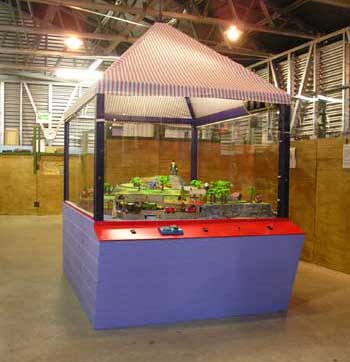 There is a display of historic models, some of which can be operated by visitors.

Other static and operating displays are also on show and more will be developed over time.
<!Middleton Photos>
More Photos of Middleton