Middleton Model Railway Shop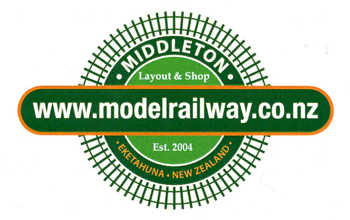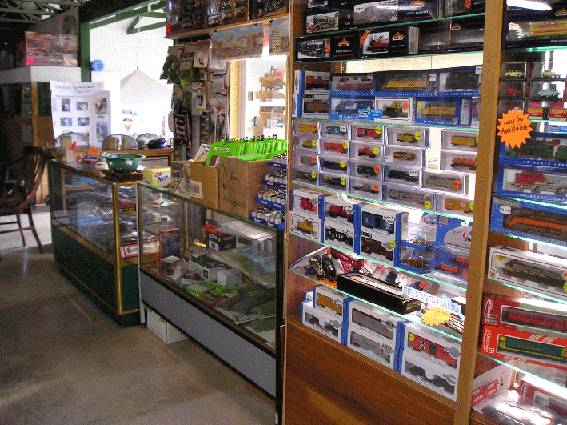 Our model shop was started in 2006 and has gradually developed into a significant part of our
business. We can now supply everything needed to build a model railway. Because we run the shop
as part of our exhibition we can pass on the cost savings to our customers - generally our prices
are at least 15% below recommended retail prices charged elsewhere! We have Eft-Pos.

Mail order service available.

We are happy to advise those just starting in the model railway hobby, as part of our service.

We have made something of a speciality in stocking road vehicles and boats in the model railway
scales - these are not always easy to obtain elsewhere.


Shop Hours
We are open daily (except Thursdays) 9:30 to 4:30


How to do Business with us
CLICK FOR DETAILS
Bargain List

Check out our bargain list. Some great new items here which you
may have missed first time round...
CLICK FOR LIST



What We Stock
Hornby Railways
Bachmann Branchline (UK 00 scale)
Bachmann H0 scale American
Bachmann N scale American
Graham Farish by Bachmann (UK N scale)
Frateschi H0 scale NZR CLICK FOR LIST


Atlas H0 and N scale
Parkside Dundas wagon kits (UK 00 scale) CLICK FOR LIST



Metcalfe card building kits (00 and N) CLICK FOR LIST

Superquick Card Building kits (00) CLICK FOR LIST

Bilteezi Building sheets (00 and N)
Townscene backscenes (00 and N)
Wills building materials and kits
Ratio kits
Scenic Express scenic materials
Scenic Textures scenic materials
Hornby Skale Scenics range
Woodland Scenics
Modelscene

Peco track and kits (00/H0 and N scales)
Peco backscenes
Hornby Track CLICK FOR LIST

Atlas Track (H0 and N scales)
Bachmann E-Z Track (H0 and N scales)

Humbrol paint, brushes, model filler and adhesives
Humbrol Weathering Powders
Balsa wood
Styrene sheet and sections
Brass sheet and sections
Nickle-silver wire
Dolls House building papers & wallpaper

Hornby Skale Autos (00 scale)
Siku diecast vehicles (H0 scale)
Classix diecast vehicles (00 scale)
Oxford diecast vehicles (00 and N scales)
Base Toys (B-T Models) diecast vehicles (00 and N scales)
Corgi Trackside diecast vehicles (00 scale)
Cararama vehicles (1/72 - may be used for 00 scale)
Cararama construction machines (H0 scale)
Airfix kits (00 scale)
CLICK FOR LIST OF DIECAST MODELS


Take and Play Thomas Series
Wooden Railway system

Railway Jigsaws
"Thomas" jigsaws, games and puzzles

Model boat kits (for N and 00/H0 scales), when available

Railway-themed souvenirs

Further Product Information

TRACK

We aim to keep good stocks of the track which we sell. From personal experience we know how frustrating it can be
when a shop doesn't have the exact piece of track which your layout requires!

The Hornby track range is a good option for children's layouts - it is inexpensive and works well. Points can be fitted with either a surface-mounted
or below-baseboard motor. Three radii of curves are stocked (1st, 2nd and 3rd radius) and all types of pointwork.

For the enthusiast we stock the Peco Streamline Electrofrog range with code 100 rail. We have also started to stock the finer code 75 track.
We have standardised on the live-frog type of pointwork as running is dramatically better and we believe enthusiasts will be
prepared for the slight additional work which live-frog pointwork entails.

We also stock Peco Setrack pointwork as it can be used in conjunction with the Streamline Code 100 range to give an additional range of
sharp radii, useful in tight situations.

We also stock Peco flexible track in Code 100 and Code 75. For modellers of the
modern scene we have this track with concrete sleepers too.

(The Middleton layout uses Peco Streamline Electrofrog pointwork and a mixture of Peco and GT flexible track.)

TRAINS

Models of American trains are excellent value for money due to the large size of the American market leading to lower production costs.
The Bachmann American range in H0 or N scales forms an excellent entry point for new modellers.

For those modelling British trains in 00 scale there is little to choose between the products of Bachmann and Hornby, both work very well.

Hornby have recently introduced the budget-priced Railroad range. This contains a number of older models and items from the former Lima range.
While aimed at the younger modeller there are some bargains in this range for adult enthusiasts too.

If you are intrerested in modeling New Zealand trains then the simplest option is to use H0 models from the Frateschi range. The locos are good
and powerful runners with a large centre motor driving all wheels. There are items in the rolling stock range which approximate to their NZR equivalents.

ROAD VEHICLES

No layout is complete without road vehicles to scale. Until recent years it was
a matter of some difficulty to find models in the appropriate scales, but happily this situation has changed.

The Siku range contains many good models in H0 (1/87) scale and represents great value for money. In particular there is a wide selection of
tractors and farm machinery plus trucks and earthmoving machines.

We import the Classix, Base Toys and Oxford ranges of models in 00 scale (1/76). These ranges cover British
trucks (many in railway liveries) and cars, mostly from the 50's and 60's periods,
although pre-war vehicles are starting to appear. We also stock the Oxford N scale road vehicles (1/148).

Other ranges which are stocked are Corgi Trackside and the Hornby Skale Autos range - both for 00 scale (1/76).

We stock Cararama vehicles in 1/72 scale. With care these can also be used with 00 scale trains. The Cararama construction machines are very finely-detailed models in H0 scale (1:87)

SHIPS

There are very few suitable ship models which can be used on a layout. Most are either naval vessels or are to very small scales. Because real ships
differ in size it is possible to utilise ship models which are not to exactly the correct scale. We endeavour to keep a selection of ship models
in scales from around 1:200 up to 1:72, suitable for N and 00/H0 scales.

TRAIN SETS

A train set is the easiest way to make a start in model railways. Most manufacturers discount sets
as a way to encourage new customers, hence they represent good value. We stock sets by Hornby and Bachmann.

BUILDINGS

There are three main types of model building - card, plastic or resin-cast. The card kits are probably the most
versatile as they can be easily modified during construction. They are fully coloured and no painting is required.
Making up the card kits is itself an enjoyable hobby, especially for a Winter evening.
We usually have a number of plastic building kits in stock. Some are pre-coloured but others require painting.
Resin-cast buildings are the most recent development. Complete sets of buildings are availabe from Hornby (Skaledale) and Bachmann.
The models are highly realistic and come complete, ready to be placed on the layout. Such convenience of course means
that these are the most expensive option. We can order these models on request.



Return to Home Page